Playground
Our CSA-approved playground is a great place for our younger visitors to enjoy some recreation time and to burn off some of that excess energy. Kids love to hang from the monkey bars, get lost in the maze of tubes, come down the slides and experience everything the areas has to offer.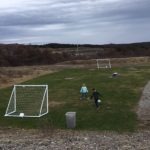 Soccer Pitch
New to the Park is our Soccer Pitch. Pure family fun and don't forget your cleats!
Heated Swimming Pool
A new feature at BlueFin, this state-of-the-art heated swimming pool is a huge draw for people looking for a relaxing swim and some fun in the water in a bit more of a controlled environment.
Fishing
BlueFin is the perfect destination to cast a reel and try your luck at the day's big catch. With a long history of recreational fishing, many love baiting the hook and seeing if the supper menu can be a fresh trout over the open fire that evening.
Hiking
Get out and enjoy nature and have fun getting your daily exercise as well. BlueFin offers great hiking destinations for those who wish to stretch their legs and experience the gorgeous landscape surrounding the park.
Basketball/Hockey Court
The encompassing recreation area doubles as both a Basketball court, as well as a place to enjoy Canada's national sport off-ice. A pick-up game of either is always a great way for people to get together and enjoy some time socializing in the spirit of the games.
Boating
There's nothing like getting out on the open water and enjoying the spray of the fresh water coming back in your face as your craft picks up speed going up the pond. BlueFin is the ideal location for some great boating, with a wharf on-site to use as a dock.
Waterskiing/Tubing
As adrenaline rushes through you, hanging on for dear life is the only thing on your mind. Speeding up the pond on a set of skis or an inflatable tube, as the jet-ski or boat speeds up, you dare not let go, but the screams of excitement and fun show that you are having the time of your life.

Berry Picking
It's a natural part of Newfoundland and Labrador culture, as the wild berries that grow in our wildernesses all over the province are perfectly ripe and juicy to eat right off the vine. Wild blueberries, partridge berries, bakeapples, and many more are all for the picking in NL, and going on the hunt to find them is all part of the fun.
Live Entertainment
Whether it's a group of campers around a fire with a couple of guitars, or a weekend concert organized by the owners and put off as a live performance, music is a key part of BlueFin just like it is a key part of the entire province.
Hard Ice Cream Parlor
A delicious treat for the whole family, cool off with a classic at the ice cream parlor.
Some photos are for illustrative purposes.